Family Friendly Vaccine Clinic February 19th 2022
02/19/2022 04:30 PM - 07:45 PM PT
Category
Facility Rental
Admission
Summary
Come for a vaccine, enjoy the museum for FREE 3:30pm to 7:30pm. Prizes and kid friendly activities while you wait.
Description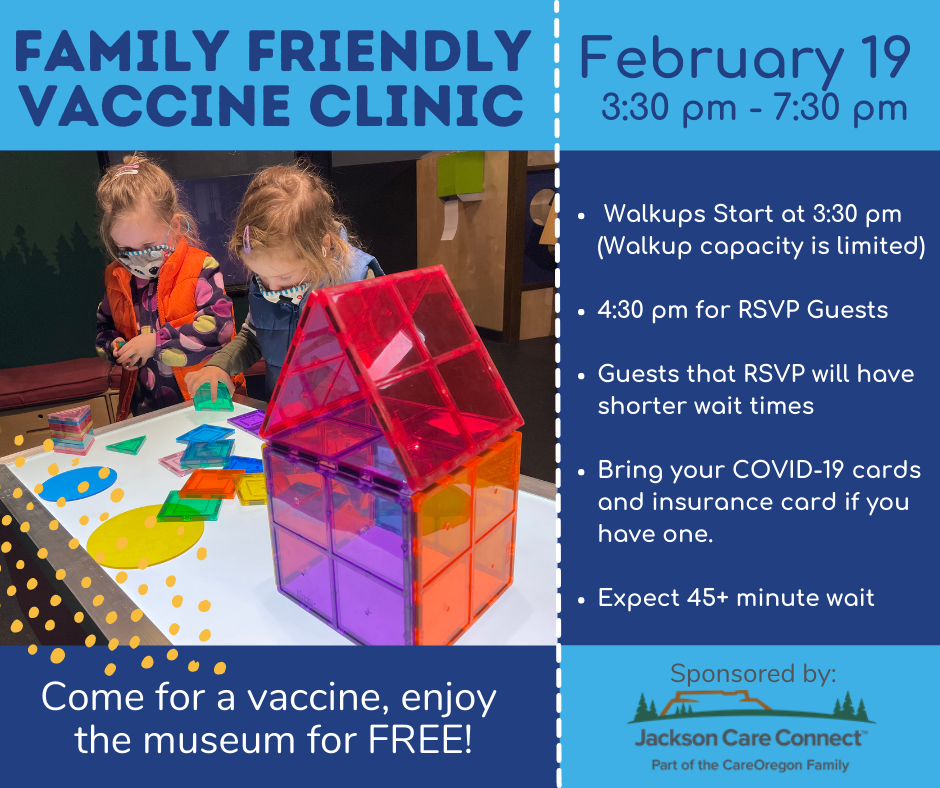 A Family Friendly Vaccine Clinic at ScienceWorks

Registration is not mandatory. It does reserve your appointment time and enter your family in a prize raffle. Reserved time slots will speed up your visit. Please plan on staying at the museum for at least 45 minutes. You and your family are welcome to stay longer and enjoy the museum until 7:45pm! - If all spots are taken, please waitlist as it will help us gauge future demand and potentially help expediate waitlisted vaccinations.

Walk-in or waitlisted folks should expect a longer than 45 minute wait to be seen.
Is the vaccine safe for my 5-11 year old child? Yes - vaccine information for parents and guardians
What about teenagers 12-17 years old? Vaccine information for parents of teenagers
We will be offering the pediatric vaccine series offered by Pfizer as well as the adult Moderna and adult Pfizer vaccine, as well as the adult Moderna booster and the adult Pfizer booster. We've got you covered. Please bring your vaccine history cards!
The vaccine is free, you do not need health insurance to get the vaccine. If you have insurance, please bring your card as the provider may bill your insurance for the cost of administering the vaccine. You will not be charged for visiting the museum or for receiving the vaccine

There will be a drawing for one ScienceWorks membership or four ScienceWorks guest passes as well as additional prizes for registrants at each of the events